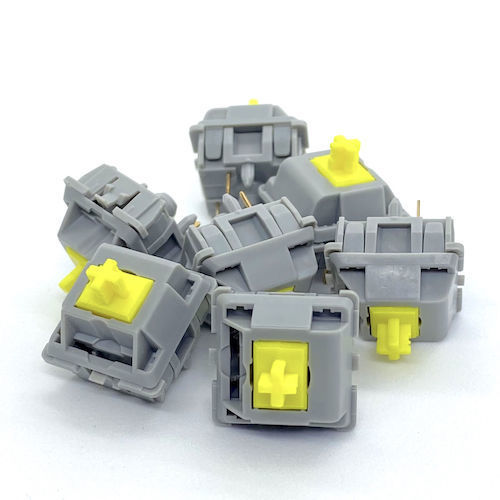 【ARRIVAL】DUROCK POM T1 Sunflower タクタイルスイッチ(5ピン/67g/5個) が再入荷しました
POM素材のT1、2回目の入荷がきました。今回は在庫豊富です。ぜひご検討ください。
DUROCK OEM POM Switch is a totally NEW Series on 2021.
The Upper housing and Lower housing use selected imported POM materials.
The stem is with upgrade design, and also uses a new mixed material, which is finally selected after hundreds of experiments and improvements.
Our engineering team finally got an excellent ratio of the mixture to achieve the great performance.
Thank them for all their efforts and hard work in the past months!
DUROCK POM Switch is with Super Smooth performance, it is with a deeper sound to compare with our previous PC Top+Nylon Bottom series.
Advantages
1. Smoother performance even without factory lube
2. Deeper sound with the new materials
3. Optimized molds and design on details
Specifications
1. POM housing.
2. Mystery Material Stem
3. Gold-plated Spring
4. Style: Tactile, | 4mm Travel | 2mm Operating | 5 Pins | 50 million operations Click life
5. LED styles: SMD and through-hole
6. Gold-plated cross-point
7. 67g Bottom Out Spring Weight
Uniform, Progressive or other types can be customized as per requirements
8.These 5 pins switches are also able to be used in plate mounted keyboards with simply cut the 2 small plastic pins off.
Rating
12V DC 0.1A
Insulation Resistance
100MΩMin(250VDC)
Contact Resistance
100mΩ Max
Dielectric Strength
250VAC 50/60HZ for 1 min
Operating Temperature Range
-25 ℃ to 85 ℃
Work Travel
2.0±0.6mm
Total Travel
4.0±0.3mm